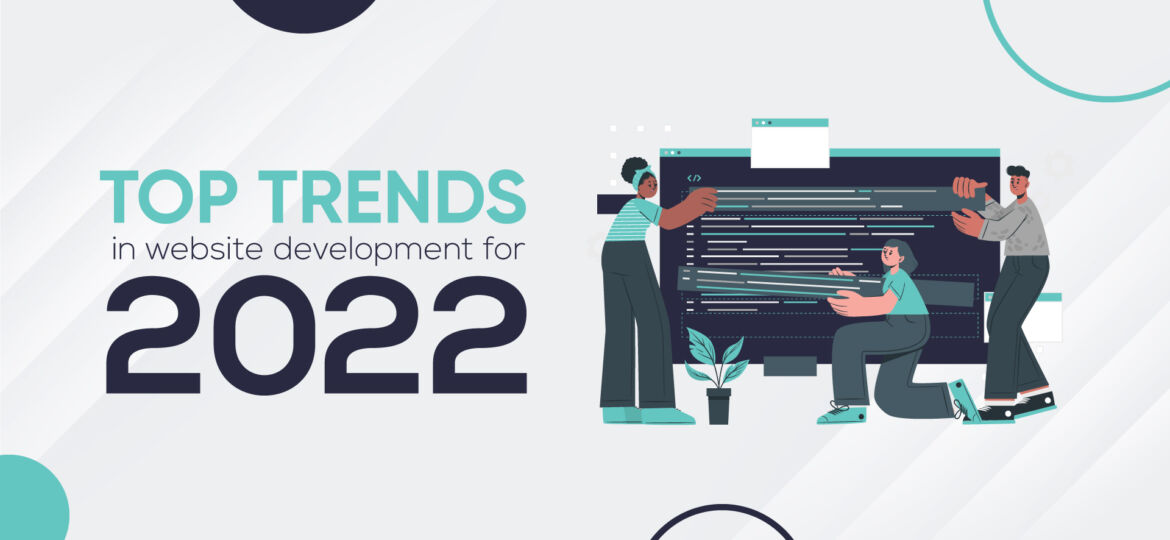 Digital presence is the need of this era. And the website is one part of the same, which promotes your visibility in the industry. Website Development Company has evolved significantly over the decades, and this trend continues. Website owners need to be aware of changing trends in website development. For a business to succeed in this highly competitive web market, it is necessary to keep updated about the latest developments in web development. The best way to stay competitive in your business niche is to develop and maintain your website according to ongoing trends. Following are the top trends in website development for 2022.
Chatbots are powered by artificial intelligence

.
A number of techniques, including machine learning, natural language processing, and information retrieval, are expected to further enhance AI chatbots in 2022 to meet users' needs and match their behavior. AI-enabled chatbots assist companies in accelerating operations through voice and text chats and improving customer experiences. Website Development Company in the USA provides customers with seamless digital experiences with companies providing them with data, answering frequently asked questions, and solving other issues.
Changing to the dark mode
The term dark mode is often used in conjunction with similar terms like "Night Mode," "Shadow Mode," or "Dark View," which describe a low-light user interface using a dark color as the main background, reversing the traditional light-on-dark design that designers have used for years. The use of screens has increased significantly in recent years. Users could interact with a site for longer thanks to Dark Mode, which was developed to prevent eye fatigue. Facebook and Google, two of the biggest technology companies, have adopted and propagated this trend.
Brighter colors help make the design easy on the eye and therefore more appealing to users. Your content is more likely to be consumed by your visitors when they see bright colors. An excessively bright screen strains the eyes, especially in low light conditions. Bright backgrounds are uncomfortable for users, so reducing them boosts comfort and incentivizes them to explore the website for longer. According to UX research, dark backgrounds improve contrast, allowing users to focus on images easily. Having a dark version of your website will serve not only to make your regular visitors feel more comfortable but will also cater to those users with visual impairment, for example, that you had previously ignored.
Search Engine Optimization for Voices
Website Development Companies like Google Assistant, Apple's Siri, and Amazon's Alexa Voice Search Optimization have become an increasingly important part of our lives. One of the latest web development trends has been voice recognition technology, which has shown tremendous progress. Globally, smart speakers are predicted to reach 163 million units by 2022, increasing 21% compared to 2017. Speech recognition has enabled these developments through AI assistants like Siri and Alexa. Adobe Analytics has shown that people prefer voice search over typing, as 47% use voice search. As a result of the multitude of activities we are surrounded by, these numbers are realistic.
Consequently, voice recognition has become a growing trend and should increase accessibility and improve user experience. Users with visual and hearing disabilities will especially benefit from this. In recognition of this growing trend, tech giants like Amazon, Apple, and Google have recently introduced smart speakers to the market.
A motion-based user interface
Consumers today seek more mobile-friendly and faster digital experiences and more immersive and interactive ones. Motion UI plays a key role in providing consumers. Website Developing Company in the USA can create responsive mobile applications with Motion UI and native apps that can use predefined motions. This setting is native to the app. A slide, spin, bounce, transition, and more can be done with this framework due to its compatibility with all web technologies and ability to be incorporated anywhere on a website, including the header, footer, and menu. As of 2018, most websites use Motion UI. In 2022, it will become one of the top web development trends due to the SASS libraries' technology.
Designing a mobile-friendly website
As mentioned previously, over half of the worldwide web traffic is generated by mobile devices. The global eCommerce market is dominated by mobile sales, which account for nearly three-quarters of sales worldwide. This data shows that mobile-first web development has become extremely important. Thousands of developers have been using this approach since the mid-2000s. However, what is considered mobile-friendly constantly changes. The next phase will see GPS information utilized for providing incredibly customized service to users. Single-click purchasing through shopping applications incorporating digital verification, such as biometric identification or voice-activated shopping, are trends.
Websites with a single page
Website Development Company develops Single-page websites perfect for individuals, portfolios, freelancers, brochures, startups, and product sites. This kind of website takes up very little space, attracts a lot of traffic, and makes it easy for users to locate the things they need without navigating through multiple pages. Visitors can also stay focused on the essentials with these websites. Today, many entrepreneurs and freelancers are opting to build single-page websites for their clients. Single-page websites are also easier to design and manage since only one webpage. In 2022, there will be more freelancers, startups, and individuals working on their websites because more people are working for themselves. In 2022, users will focus more on ease of use, convenience, and less hassle in developing web applications, and making their lives easier will make yours easier.
The Accelerated Mobile Pages(AMP) technology
The trend of fast mobile pages will be one of the top web development trends in 2022. AMP allows web pages to be loaded faster and to decrease bounce rates. When activated, it is also good for using animation and video content as it does not overload the system. As opposed to full-screen web pages, optimized web pages operate fast. They also have a convenient, simplified design with minimal features compared to full-scale web pages. Mobile-friendly and the content are easy to read, which is why they are becoming increasingly popular. AMP has become a popular trend through fast load times and easy operation to make users enjoy their online experience. With the use of AMP, you'll be creating an end-user-friendly custom web development strategy for your business. Therefore, your website will spend more time on it and rank higher against your competition.
As the requirements and expectations of online consumers change, web development also changes. Mobile-friendly development is one of these trends. The future might also bring smart wearables or unfamiliar devices that optimize the user experience. You can attract and delight your visitors by staying on top of web development trends.