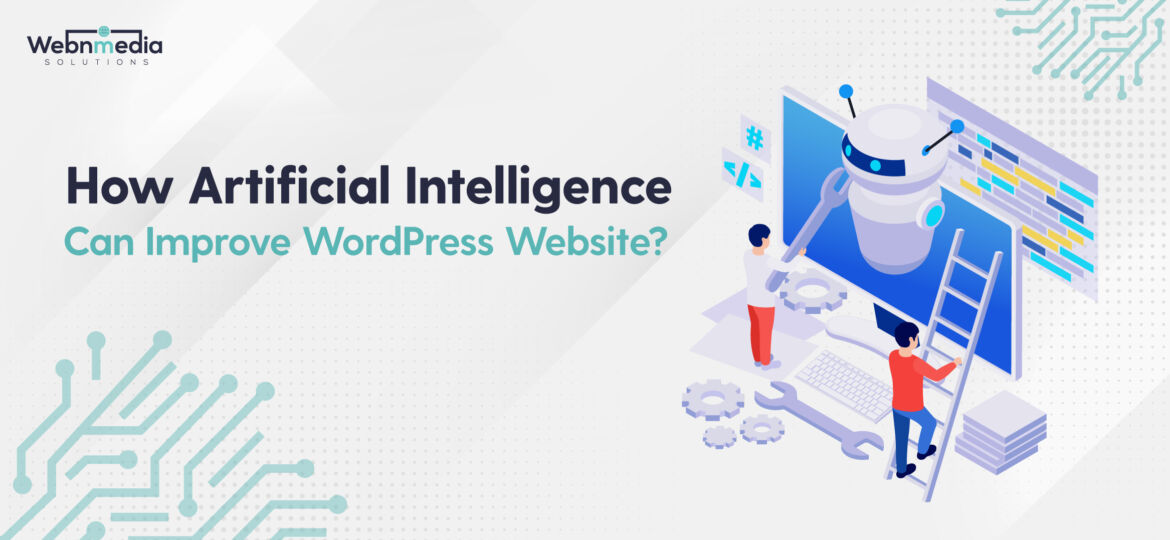 Recent developments in artificial intelligence have seen making rapid inroads into the information technology industry and, more broadly, into every corner of the world. We can say that artificial intelligence (AI) is a replacement for everything and is designed to augment and complement human capabilities. Artificial intelligence (AI) is being implemented everywhere to improve the functioning, decision-making, and analysis of massive data, as well as to complete complicated and advanced tasks that are too static or chaotic for humans to complete.
AI is now being used in a variety of industries, including information technology, businesses such as Facebook, Gmail, and PayPal, applications such as smart home devices, automated weather forecasts, and, most recently, self-driving cars, among others.
In a nutshell, artificial intelligence is taking over every task necessary for a stress-free existence. A summary is that artificial intelligence (AI) can now open up new pathways and participate in upcoming innovations across all industries.
Even if this is the case, one of the most intriguing applications is in the field of website development. As the demand for WordPress website development continues to grow daily, artificial intelligence (AI) plugins and gadgets have also seen an increase in popularity, ensuring a more superior user experience and greater engagement.
When it comes to websites, numerous foundational tasks must be completed to establish and maintain credibility. It becomes more difficult to balance perfect content with improved SEO while also providing a better user experience. Even though there are numerous web development platforms available, WordPress is the most widely used for websites and blogging, and it is now incorporating artificial intelligence in a variety of productive ways to improve performance and outlook.
Let's take a look at the advantages of incorporating artificial intelligence into WordPress websites. Choosing the WordPress development Company in USA happens to be a wise choice for such works. Artificial Intelligence can automate some of these tasks, allowing you to manage your site more effectively and efficiently than ever before.
Assistance through the internet
·         Improve the quality of the website's content
·         SEO optimization to improve rankings and traffic
·         Descriptive user insight
·         Malware protection is essential.
Assistance Via The Internet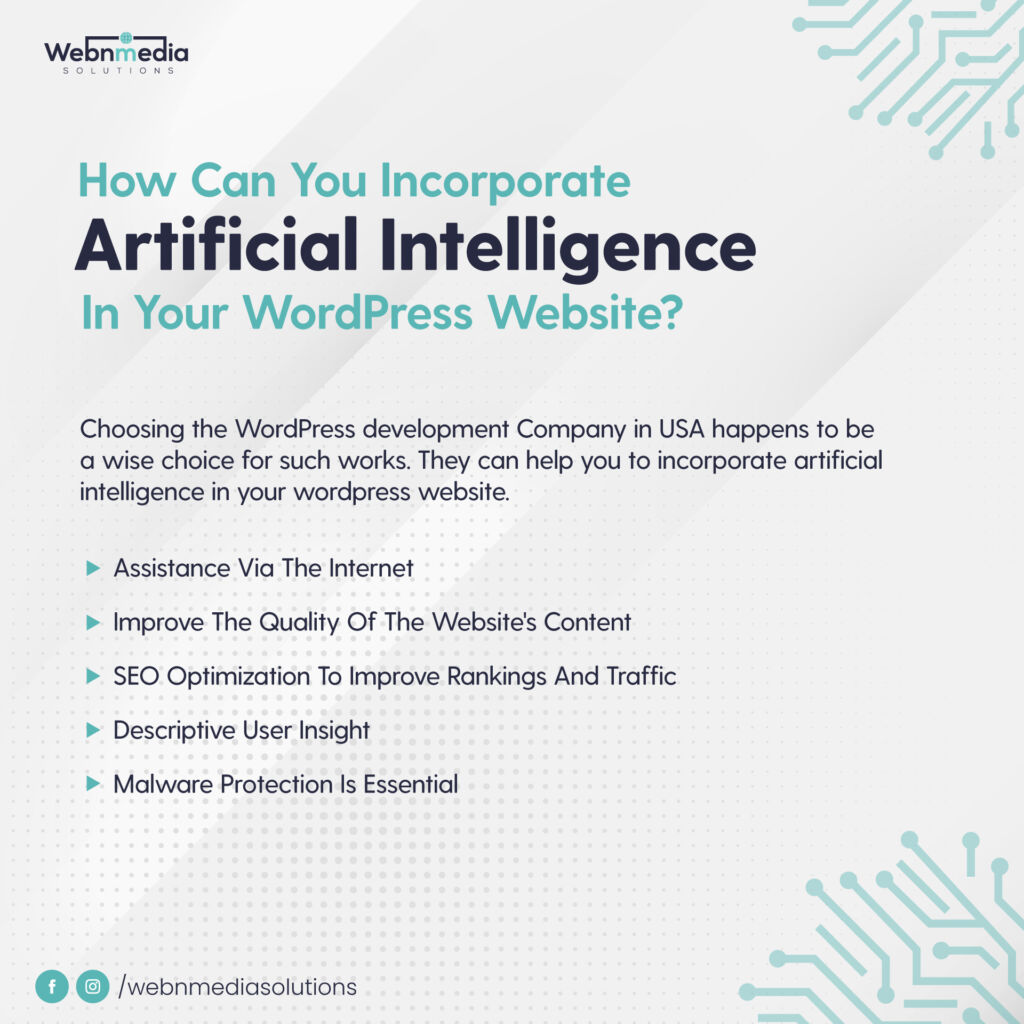 The virtual assistance plugin for WordPress provides a smart visual mapping tool that makes it simple to develop complex artificial intelligence applications. AI is capable of reprogramming a website without the need to start from scratch. For users to benefit from a highly customized experience that is also higher in quality and more interactive, it makes it simple to communicate with website visitors by removing all barriers and shortening the time it takes to respond. They are expected to be able to detect human emotions in the future, which will further improve the user's experience, it is claimed.
Website Content That Has Been Improved
Specific applications and WordPress plugins, such as jetpack, have developed features that allow users to proofread website content. After the Deadline" is a plugin that incorporates artificial intelligence to correct the personalized professional website content that you create. Aside from that, it detects incorrect spelling and inappropriacy of context, along with typos, clichés, and bias language, to prevent lower-ranking due to poor quality web content. The quality of content on a website is also important because it determines how your company is perceived, how professional it appears, and how well it gains users' impressions and trust. Choosing the right Web Developing Company can help you a lot in this case.
Seo Improvement
Search engine optimization (SEO) is critical to the overall quality and reach of your website. Optimized content is required to improve ranking, but this is a time-consuming process. AI aids in the speeding up of the process by creating appropriate content rather than optimizing it. Powered by artificial intelligence, WordLift is a WordPress plugin that assists you in creating website content that is supported by well-researched SEO keywords to attract users and increase traffic. It analyses them and converts them to be more machine-friendly to increase engagement.
Maintenance And Protection Against Malware
In recent years, almost every website developer has become quite familiar with malware attacks. There is a cloud-based malware scanner that uses artificial intelligence to identify threats such as spyware, trojans, and other malware. It can also detect and protect a website from known and unknown attacks by malicious entities, as well as identify and prevent black hat activities.
Descriptive User Perspectives
With the help of artificial intelligence-enabled plugins, WordPress provides better performance results and user insights. Content suggestions from plugins such as kindred posts are generated based on user interaction. These plugins are simple to activate and set up, and they can be integrated with Google Analytics to provide even more information. As you choose the Web Designing company you can expect these proficiencies from their parts.
You can use plugins to enhance and improve the performance of your WordPress website by incorporating artificial intelligence technology for better website management. If you are having difficulty managing your WordPress website or are about to launch a new one, there are numerous resources available to assist you. We at IPIX are experts in using artificial intelligence to improve the performance of your website. Make contact with us if you want to take advantage of our best web services. Check out our WordPress website development services for more information.